Published on : 09 April 2014 at 14:14 UTC
Mini router "ASUS WL-330NUL" is a mini USB router that can be used as :
- an Ethernet to USB adapter
- an USB Wifi adapter
- an USB router (to plug into an outlet or USB port on your computer)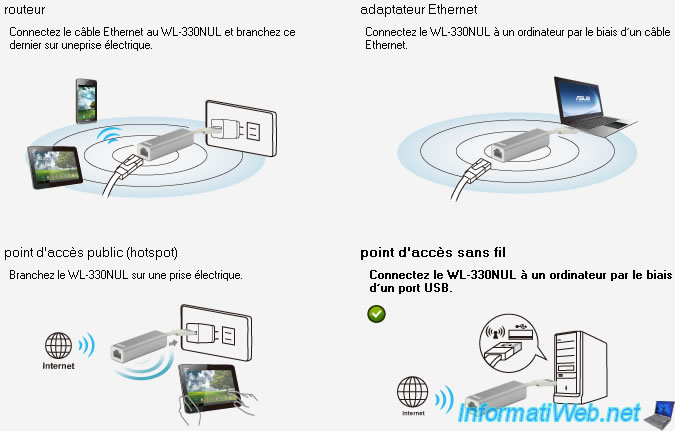 Note : This mini router doesn't serve as a modem and therefore needs to be connected to a modem or router connected to the Internet.
1. Installation of drivers
As shown in the leaf lying with manual and warranty, you must connect the USB drive and run the installer therein.
Note : No need to look for the installation cd because a 8mo chip is in the USB key. Rather surprising indeed.
As you can see, the mini router is first installed as a USB storage device (as a CD player). "USB Network Interface" driver wasn't installed automatically.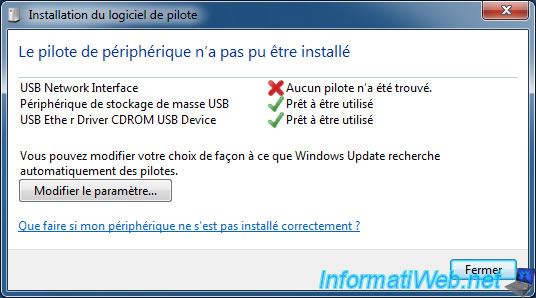 Go to "start menu -> Computer" and double click the "WL-330NUL" CD drive.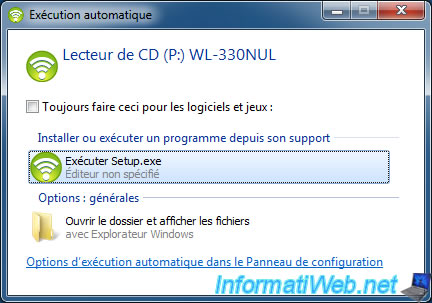 Install the program (including the driver) normally.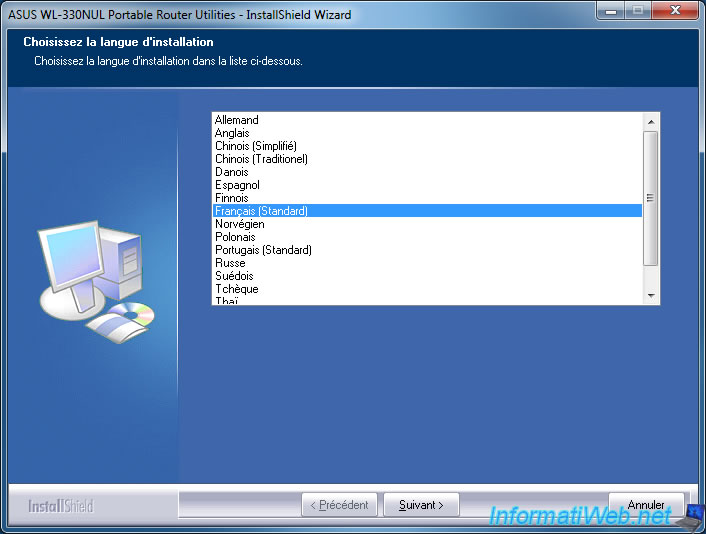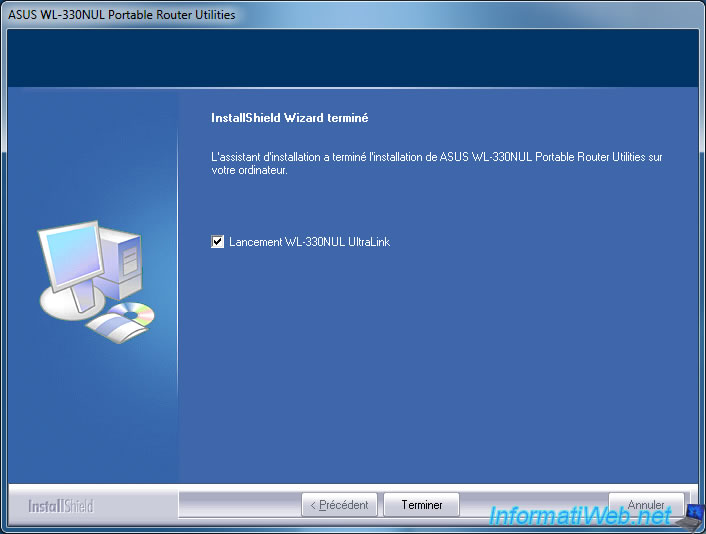 Now that the driver and the program is installed, the mini router function normally. Besides, if you go back to "Computer (or My computer in Windows XP)", you will realize that the storage device has disappeared. The driver has also been created to automatically hide the storage device, once the driver of the mini router installed.
2. Restore default settings
Before I show you how to use this device, we'll explain how to restore the factory settings.
Since this device is very sophisticated, it will happen surely mislead you at any given time.
Note : This will restore the default settings if the device doesn't work properly.
To start :
- Connect the device to an USB port on your computer and then go to your mini router by the address : "http://192.168.2.1/" or "http://192.168.1.1/".
Note : The address depends on the mode in which it is located : Ethernet adapter, Router, ...
- Then, type the supervisor code indicated on the device and go to the "Admin" menu.
Note : If you have connected a network cable to your router mini, you must then click on the "Update Firmware / Restore default settings" tab.
- Click on the "Restore" button at the bottom of the page.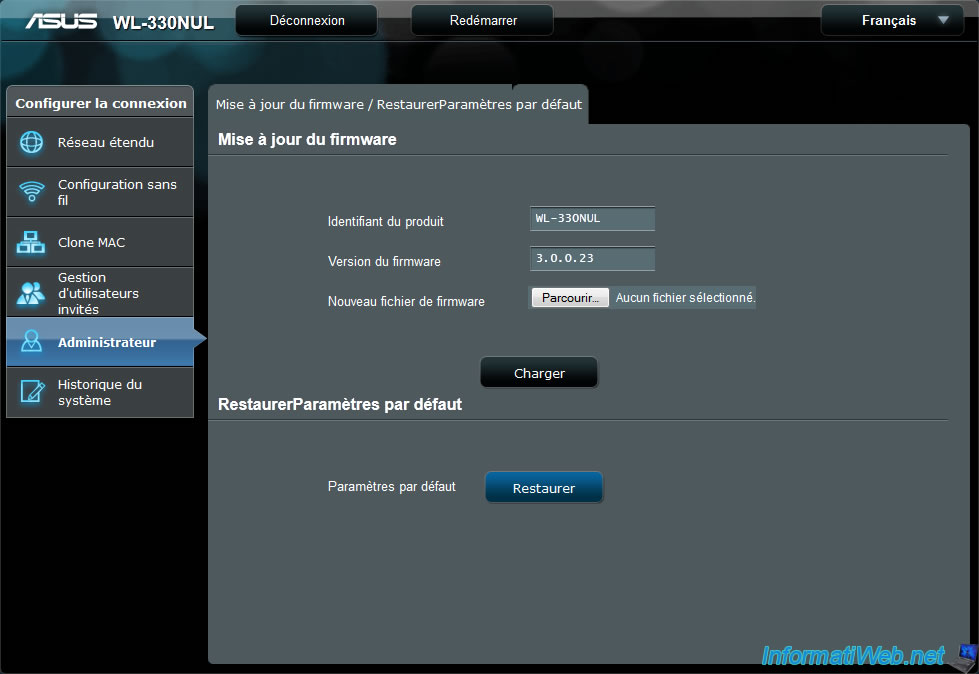 Asus tells you that the LAN IP address of the mini router is : 192.168.1.1.
Click "OK".

Wait until the mini router restarts.

After rebooting, you may arrive at an error page. This error is due to the change of the IP address of the router.
Go to your mini router by the address : http://192.168.1.1/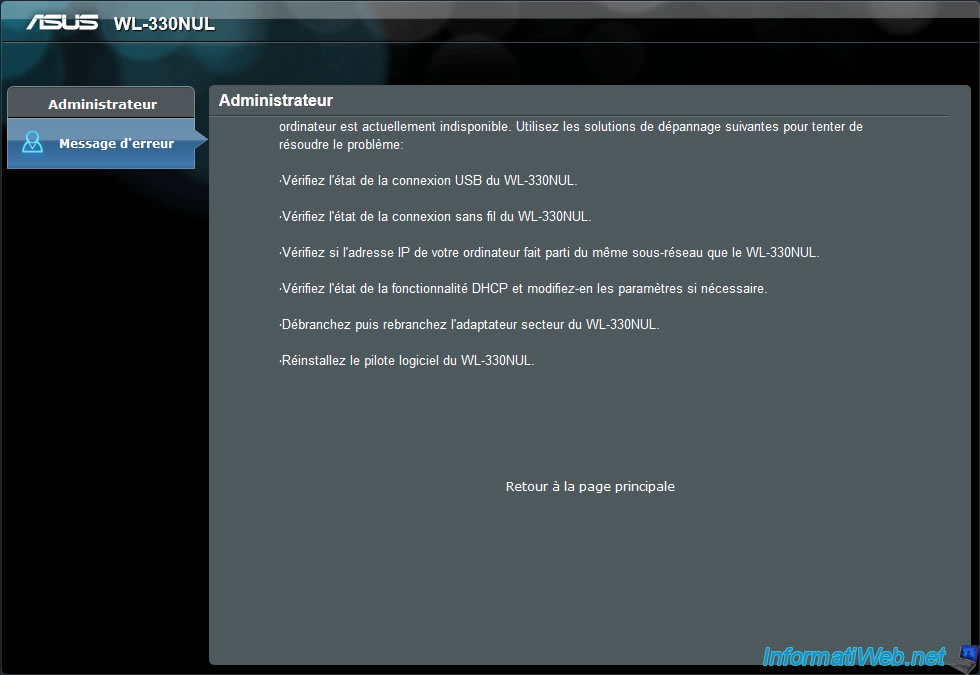 Type your supervisor code.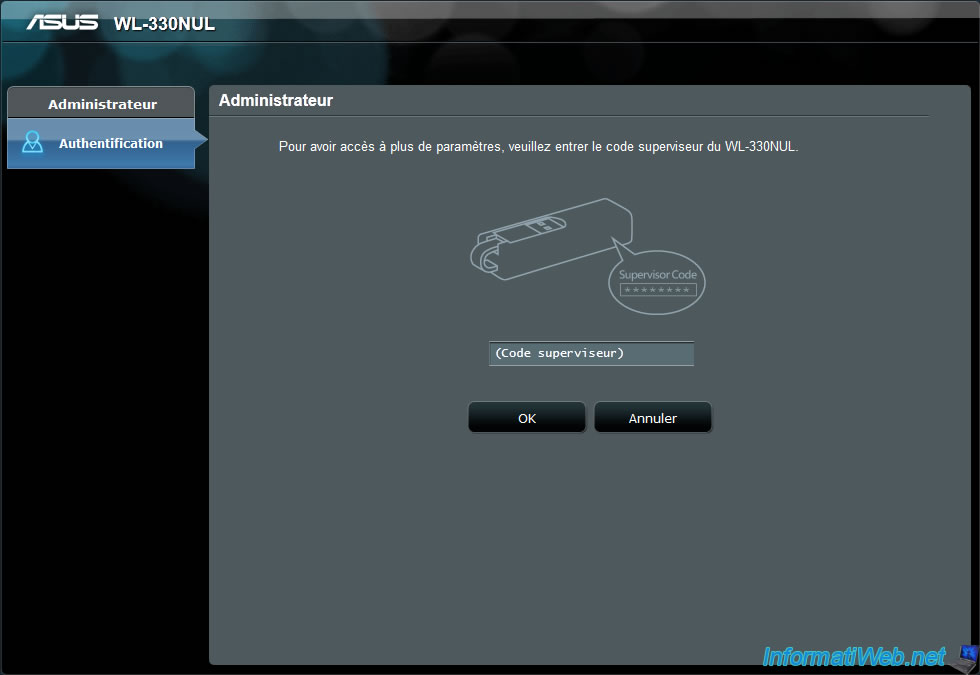 And you will gain access to your mini router.