Published on : 29 February 2016 at 12:24 UTC

Lionel Eppe
Malwarebytes is a powerful anti-malware that has been awarded by several companies specialized in security as : Westcoast Labs, OPSWAT and AV-TEST. And known sites as : CNET and PC Magazine.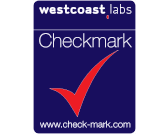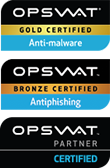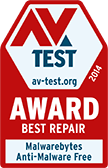 This anti-malware is available in 2 versions :
the free version : Free
the paid version : Premium (formerly Pro)
Indeed, the Premium version also offers a real-time protection against :
malware and other viruses
malicious sites
However, the 2 versions detect the same threats.
Note : If you are a business, know that it is also available in two other editions : Malwarebytes Anti-Malware for Business and Malwarebytes Endpoint Security.
1. Installation
To install Malwarebytes Anti-Malware, download and install it.
At the end of the installation, Malwarebytes offer you a trial of the paid version (Premium) of the program. This will allow you to test the real-time protection before purchase it if you wish.
That said, you can use it for free (without the real-time protection) for life if you like.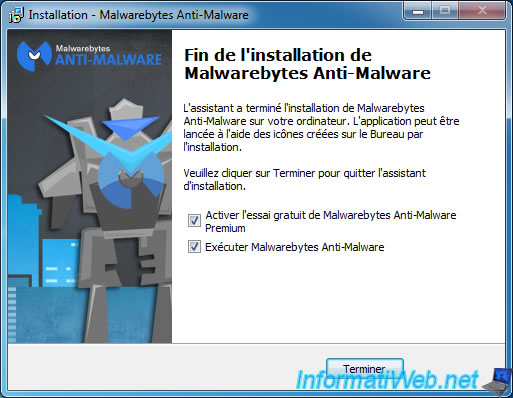 At first launch of Malwarebytes Anti-Malware you will be warned that no system scan was performed.
Click on the "Fix Now" yellow button to perform the first scan of your computer.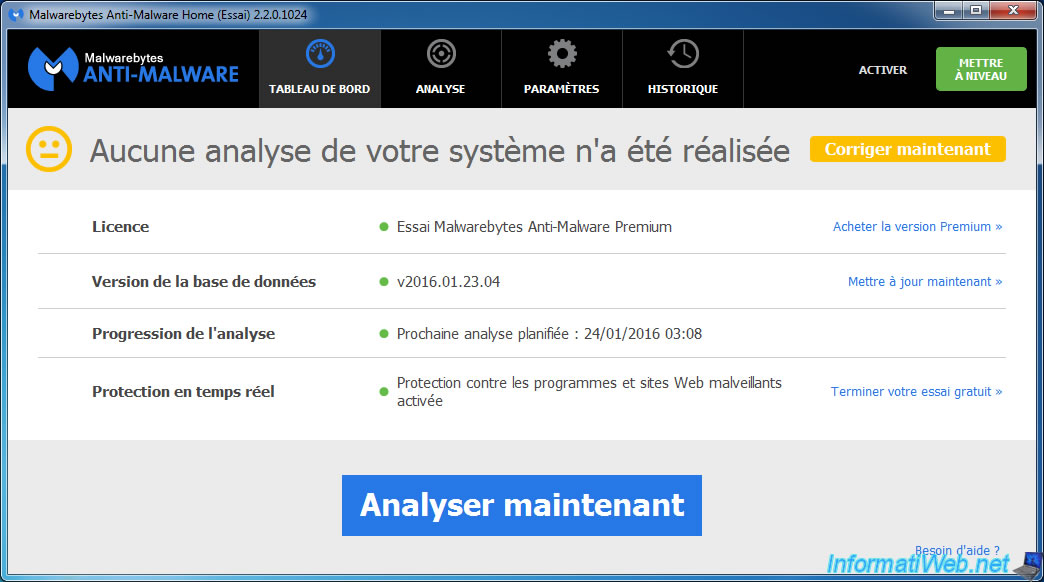 As you can see, Malwarebytes Anti-Malware will perform several things :
Check for Updates : to update the program's virus database
Pre-Scan Operations
Scan Memory (can detect and block malware that are currently running on your computer)
Scan Startup Files (if a malware is programmed to automatically start at boot)
Scan Registry
Scan File System
Heuristic Analysis (analysis of program behavior)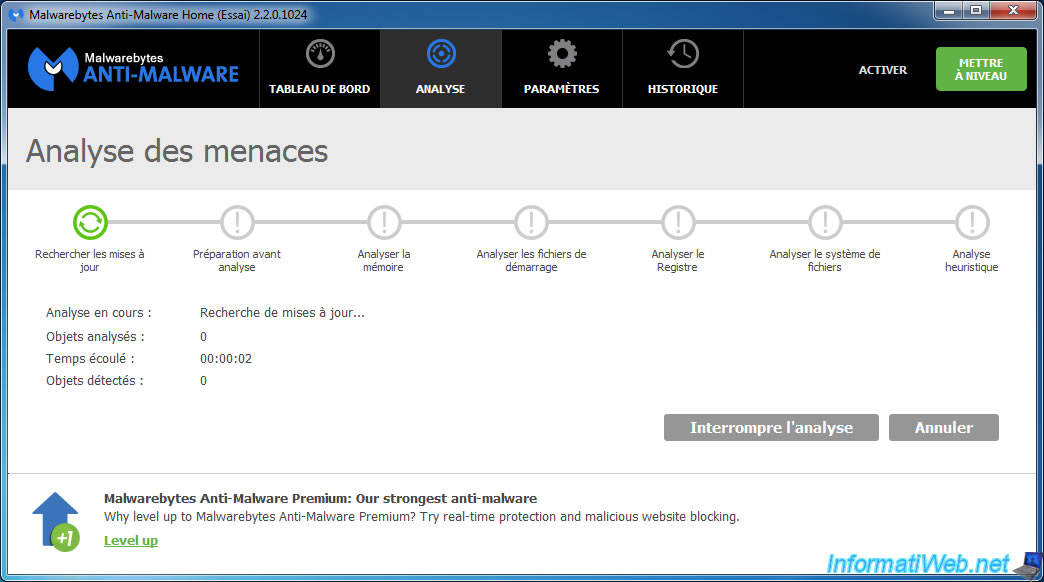 Once the scan is complete, Malwarebytes will display detected threats (if any).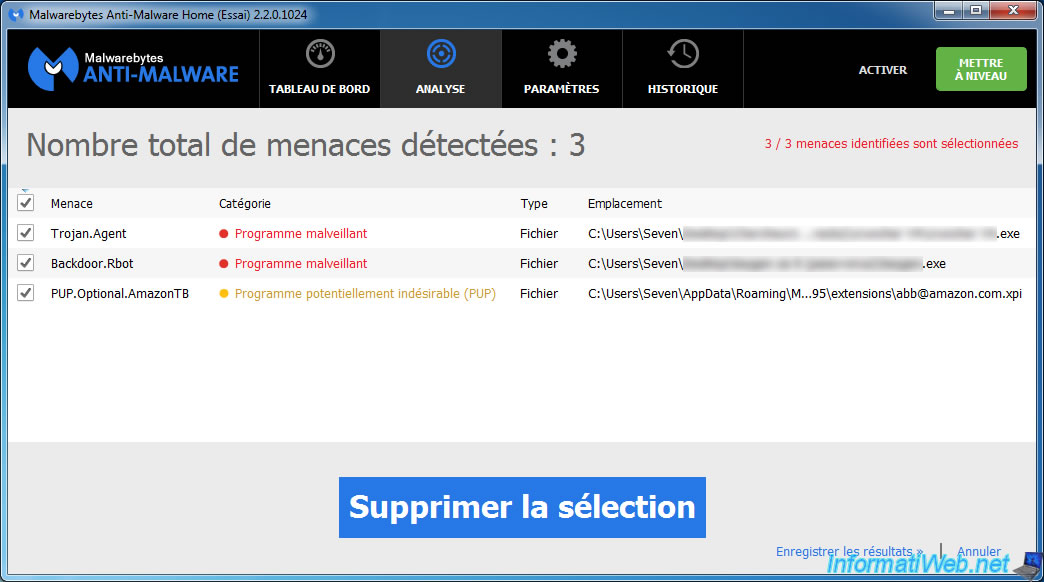 If no threats are detected, you will have this screen. Click Finish.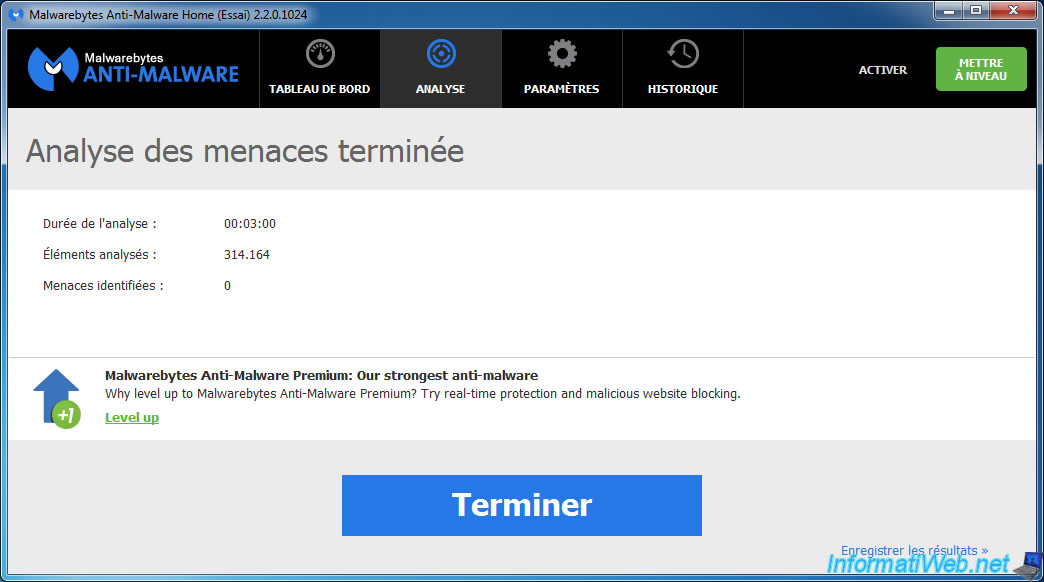 2. Register
If you buy the Premium version of Malwarebytes Anti-Malware, just click on "Activate" (at the top right), then enter your serial number in the box.
If you have an old license of Malwarebytes Anti-Malware Premium, it is possible that you have an ID + a key. In this case, click the link "I also have an ID".
Then, click on "Activate". Thus, the real-time protection will be activated automatically.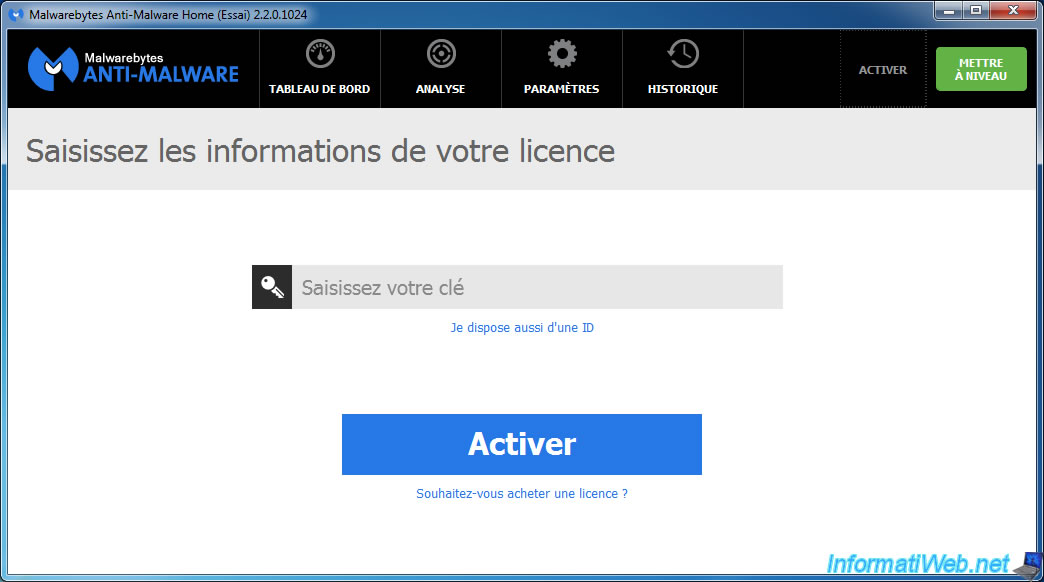 3. Scans
Malwarebytes Anti-Malware offers 3 types of scans :
Threat scan : which corresponds to a full system scan.
Custom scan : which allows you to analyze a partition or a specific folder.
Hyper scan (quick scan) : which allows you to analyze critical system areas (RAM, registry, startup keys, ...)
3.1. Threat scan
To run a full system scan, just select "Threat scan", then click "Start Scan".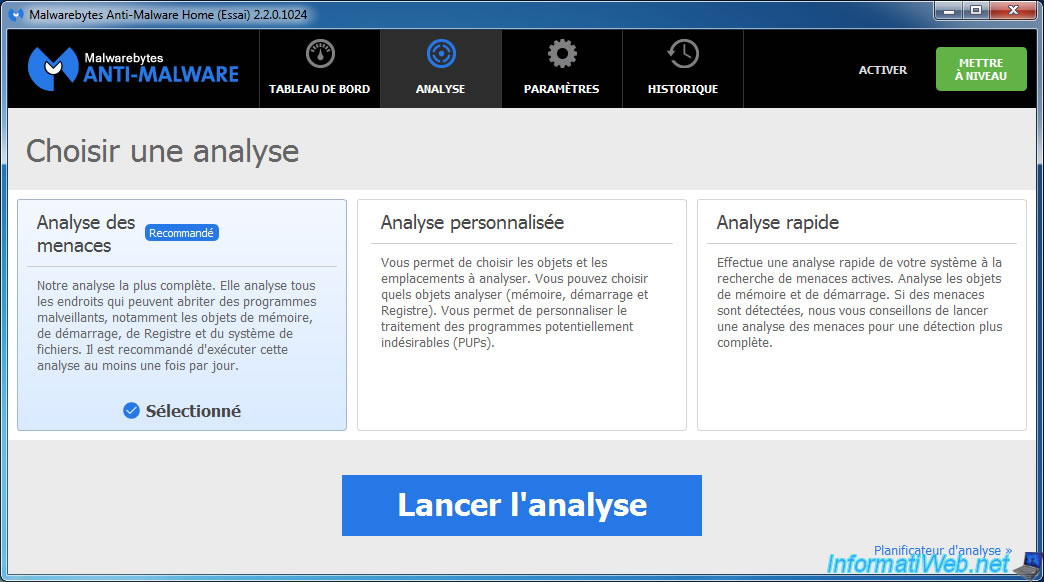 3.2. Custom scan
To scan one or more partitions, or one or more folders on your computer, select the "Custom Scan" and click "Configure Scan".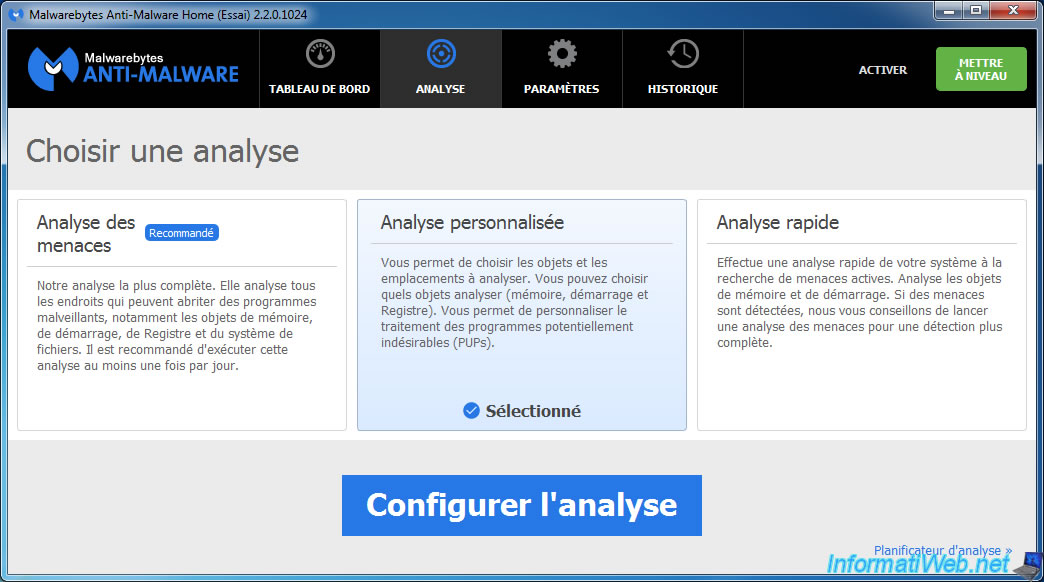 Then, select partitions and/or folders to be scanned by ticking the appropriate boxes.
Then, click "Scan Now".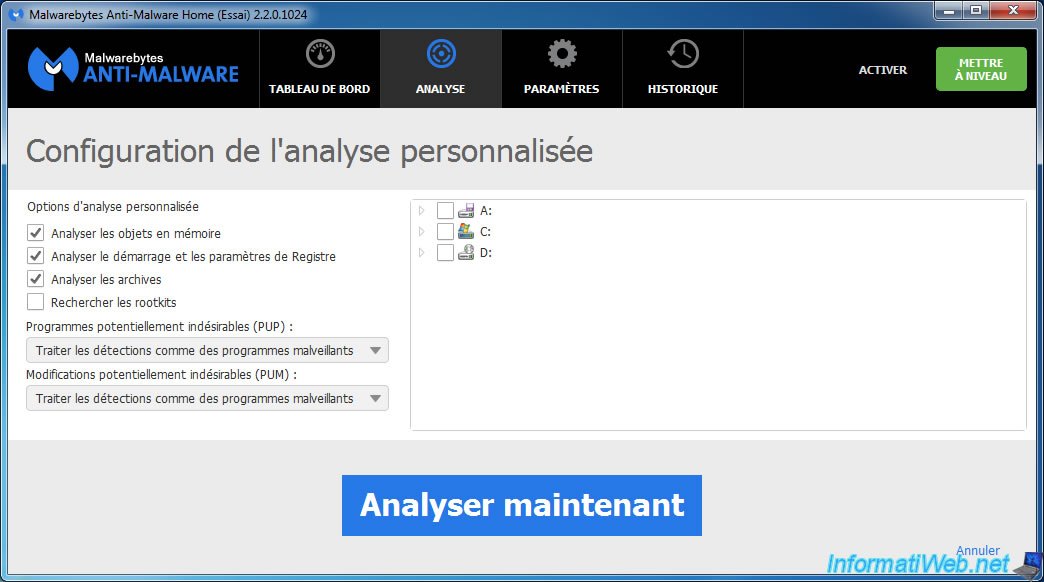 3.3. Hyper scan
To do a quick scan of your system, select the "Hyper Scan" option and click "Start Scan".