Published on : 18 May 2018 at 11:03 UTC
When you buy a web hosting on the Internet from a known web host (such as OVH or Infomaniak), you are increasingly able to host multiple sites on the same web hosting.
Thanks to this, you only pay for one hosting + your domains for several sites.
1. Information about multi-site web hosting
Using multi-site web hosting has advantages, but also disadvantages.
Indeed, when you buy a web hosting, you are limited in system resources and in some cases in storage space too (whether for files and/or MySQL databases).
If you host several small sites with few visitors, it can be very convenient to save money for their hosting. But, if you host multiple sites that receive thousands of visitors a day, this feature will be strongly discouraged because your site will become slower.
Another disadvantage is that you may not be able to enable SSL for domains added to the multisite after ordering your hosting.
For example, at LWS, which is a cheaper hosting than OVH, it's possible to host multiple sites with different domains on the same web hosting, but you can't secure them with a multi-domain SSL certificate.
Only the base domain (the one indicated when buying your web hosting), as well as its "www" subdomain can be secured with a SSL certificate.
Currently, at OVH, it's possible :
to host multiple sites on a Perso, Pro or Performance web hosting with the "Multisites" option
to secure these sites for free with a free multi-domain SSL certificate generated by OVH via the free certification authority : Let's Encrypt
manage your additional domains at OVH and/or at another provider
For Infomaniak, it's normally possible to benefit from a complete multi-site system with :
support of free certificates provided by Let's Encrypt
multi-domain support for the web hosting and the SSL certificate
Nevertheless, we did not test it, because we finally chose OVH as new host.
Indeed, Infomaniak servers are located only in Switzerland which can perhaps decrease your level of referencing if you target a country other than Switzerland.
However, according to our research, it's also a good host with good customer support.
Notes :
in our case, we chose Pro hosting for better performance.
the number of sites recommended per web hosting is only indicative. You can host as many sites as you want on your web hosting.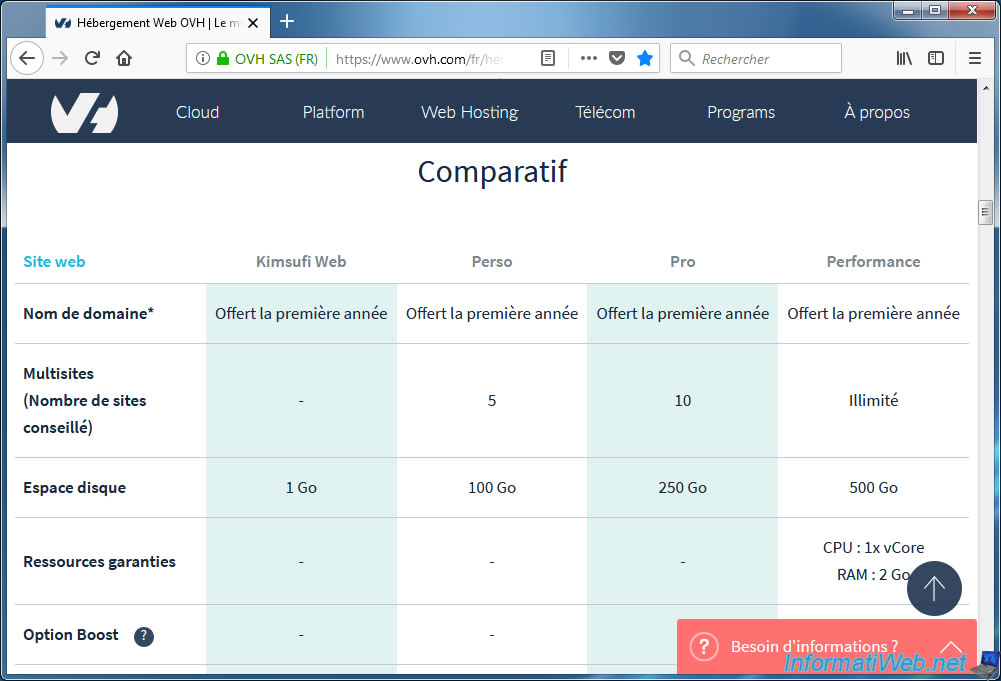 2. Add a domain registered at OVH
By default, the domain specified when ordering your hosting will be added automatically in the Multisite tab of your OVH web hosting.
To add another site to your web hosting, you must first add its domain (and subdomains, if needed) in this tab.
To do this, click on the "Add domain or sub-domain" button.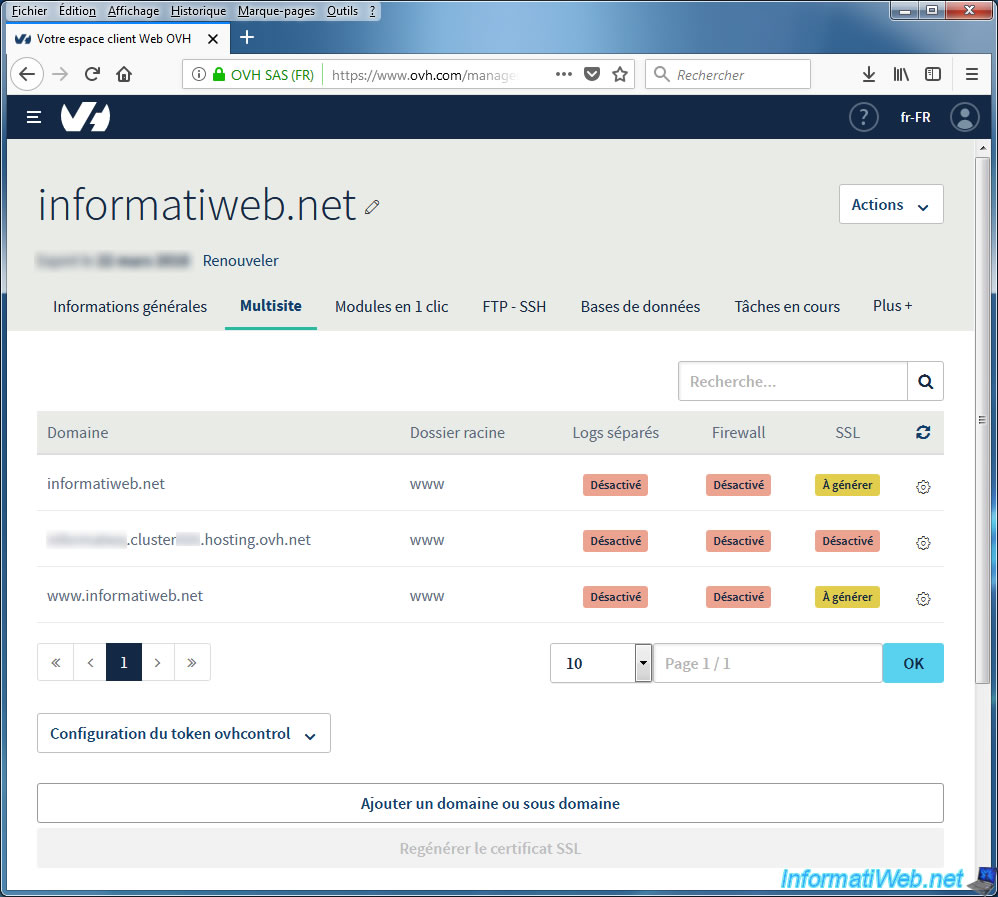 Select the domain to add and click Next.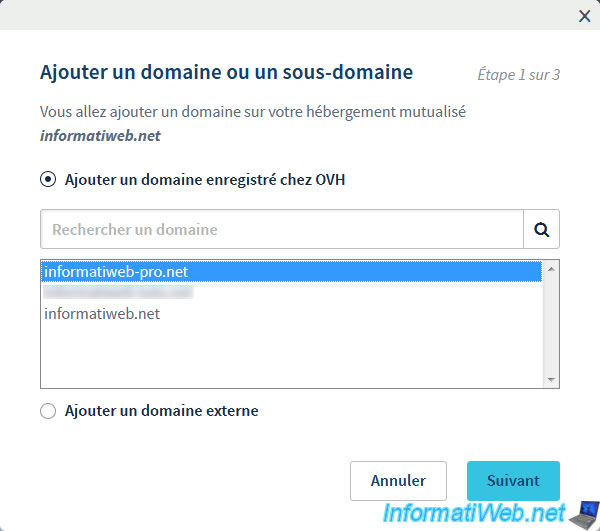 To add the root domain and its subdomain "www", leave the box empty and leave the box "Create also the www.my-domain.net subdomain" checked.
When you add a domain in the multisite system, you can configure it to :
store a specific site in a specific folder of your hosting or the root ("./") of it
support IPv6 by checking the "Enable IPv6" box
to be able to secure the corresponding site via an SSL certificate and thus access your site in HTTPS
select the country where your site will be hosted
protect the site with a software firewall
save the logs in a separate file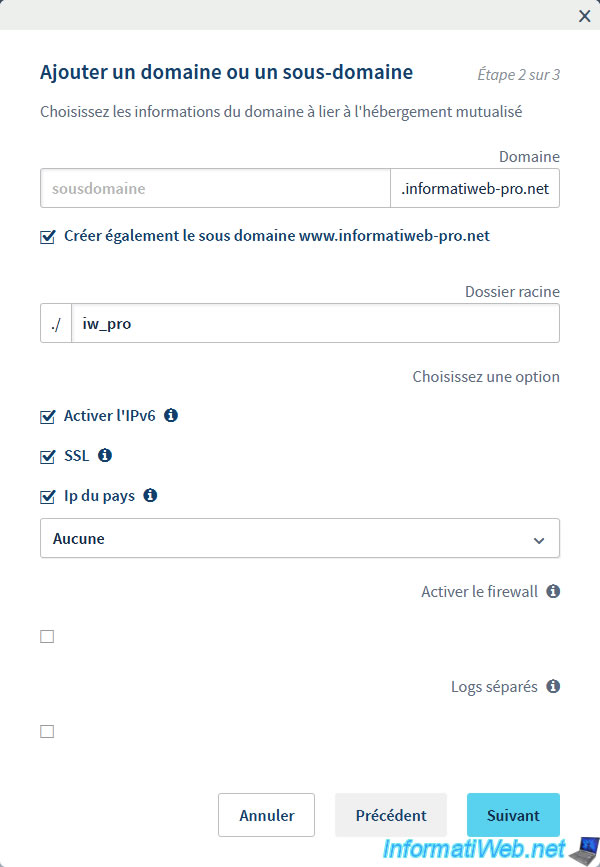 For the list of countries, you will have the choice between :
France
United Kingdom
Italy
Germany
and more
Note : the list displayed below may be out of date.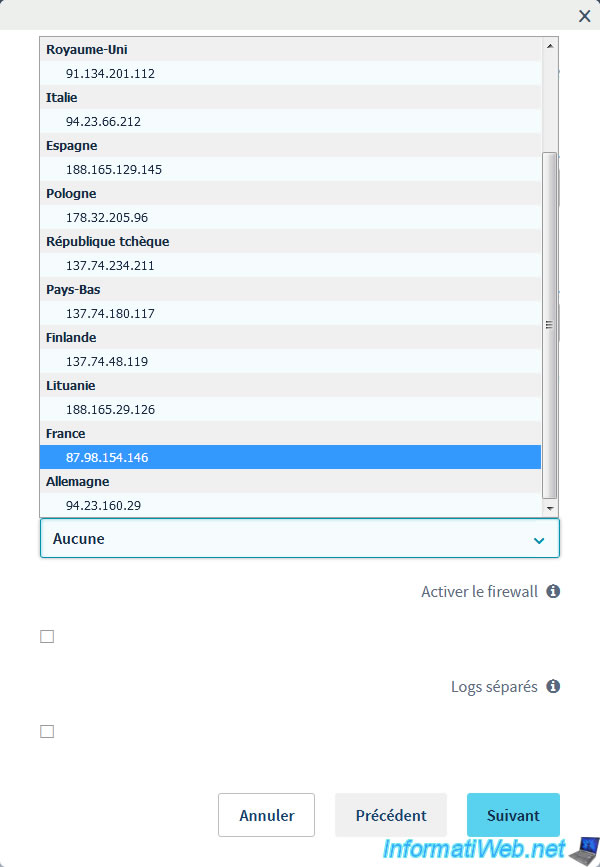 Finally, since this domain belongs to us and is registered at OVH, you will have the possibility to enable the automatic configuration for this domain (and its www subdomain).
This will automatically change the DNS zone of the domain to point to your new web hosting.