Malwarebytes Anti-Malware is the leading anti-malware that allows you to remove and block malware on your computer and on the Internet.
Indeed, the Premium version of the program also offers a real-time protection against :
Malwarebytes is a company specialized in the fights against malware and exists for around 10 years.
Moreover, Malwarebytes has been rewarded with several security companies.
In the free version, Malwarebytes Anti-Malware will allow you to scan your computer for malware and other malicious software.
For this, Malwarebytes Anti-Malware analyze :
the RAM of your computer.
Your computer startup files
The registry and files present on your computer.
Your computer's behavior (heuristic analysis)
In the paid version (Premium), Malwarebytes Anti-Malware Premium will also protect you in real time against all threats on the Internet (including malware, new ransomwares, ...) through :
a real-time protection against malicious software to protect your computer against malware that it would find on it.
a real-time protection against malicious websites to block access to malicious sites and blocks malware before they reach your computer.
Does Malwarebytes replace my antivirus ?
Up to version 2 (included) of Malwarebytes Anti-Malware, this program was not intended to replace your antivirus.
You can use it at the same time as your anti-virus.
Source : Does Malwarebytes Anti-Malware replace antivirus software?


Since version 3 (in Premium version only), Malwarebytes considers that you can also replace your antivirus by the Premium version of Malwarebytes.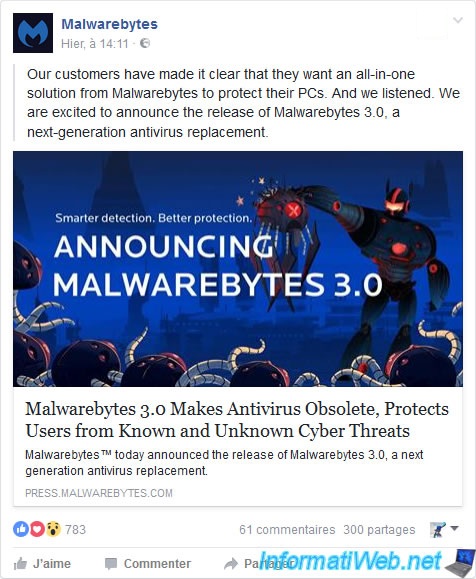 Although this is not mandatory.
Indeed, Malwarebytes leaves you the choice and will adapt automatically if necessary.
Source : What is an antivirus replacement, and how can Malwarebytes 3.0 replace my antivirus?
PS : in case of problems with Malwarebytes Anti-Malware, or during its installation/uninstallation, use the MBAM Clean Removal program created by Malwarebytes.
Malwarebytes Anti-Malware is also available for :