Published on : 07 March 2017 at 16:12 UTC

Lionel Eppe
2. Compatibility
Before purchasing a NUC, you must first find out how compatible it's with the different operating systems, as well as the different components that exist on the Internet.
When you buy a NUC, it's possible to find all those informations on their official website.
2.1. Windows
For the operating system, you should know that currently, this NUC is the only one to fully and officially support Windows 7 + Windows Server 2012 R2.
As you can see on the "Supported Operating Systems for Intel® NUC Products" page of the official Intel website.

2.2. Linux
At the bottom of this same page, you will also find a list of Linux distributions compatible with this NUC.
Warning : this list is only for information purposes. Indeed, as indicated on this page, it's the compatible Linux distributions reported by customers. So, there is no official information about compatibility with Linux.

2.3. RAM
For the RAM, Intel first specifies on the box that you must use RAM sticks in DDR4 SO-DIMM format.
However, to avoid unpleasant surprises, we recommend that you consult the "System Memory for Intel® NUC Kit NUC6i7KYK" page.
On this page, Intel will tell you that this NUC only supports DDR4 RAM memory with a frequency of 2133 MHz and in SO-DIMM format.
In addition, it specifies that :
The DDR3/DDR3L modules are not compatible
And if you buy only one RAM module, you will need to place it on the bottom connector in your NUC.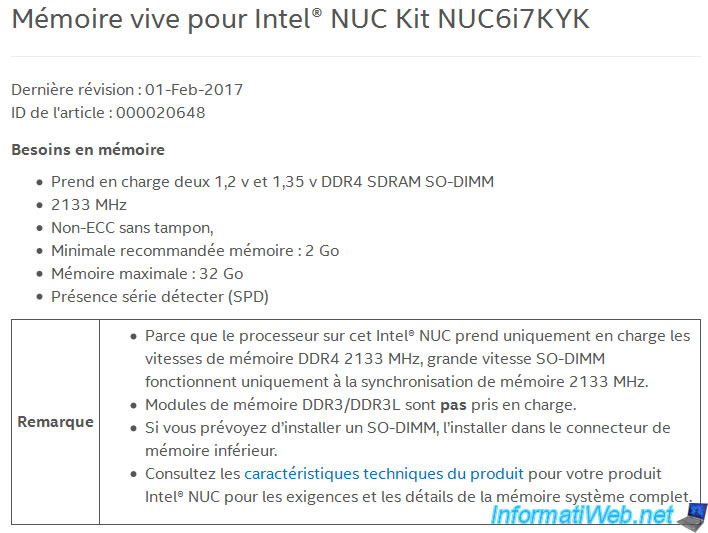 Then, on this same page, you will find a list of RAM sticks officially compatible with this NUC.
In our case, we chose the RAM sticks : Kingston Technology HyperX Impact 16GB RAM DDR4 2133 HX421S13IBK2/16
These are 2x8 GB Kingston RAM sticks.

If you wish, you can also see the list of RAM sticks that have been approved for compatibility after laboratory testing for this Intel NUC : Tested & Approved Modules for NUC6i7KYK
2.4. Storage (SSD)
For the choice of the SSD, Intel also offers lists of SSDs compatible with its NUC on its pages "Tested Peripherals for Intel® NUC Kit NUC6i7KYK" and "Vendor-Tested and Customer-Reported Peripherals for Intel® NUC Products".
In our case, we chose this SSD : Kingston Digital 120GB SSDNow M.2 SATA 6Gbps (Single Side) SM2280S3G2/120G.
Note : Intel has made a typing error in the reference of this SSD.

3. Play games on this NUC
At the beginning, the NUCs were created for office use or to work on computers without buying an imposing tower.
Now, thanks to this NUC, you can also play games or install a server under Windows Server 2012 R2 if you wish.
Here is a youtube video of a person who has tested several video games on this Intel NUC NUC6i7KYK (Skull Canyon).
As you can see from 11 min 53, it's possible to play overwatch especially smoothly.
On the other hand, this NUC will not perform enough to stream a game play.