Published on : 17 February 2013 at 16:47 UTC
Ultimate Boot CD is a live CD, ie d. a CD on which you can boot a computer and run programs without touching the hard drive spinning. All this happens entirely in RAM (random access memory).
Note: For those interested, the system boot menu and used by the Live CD is syslinux. We also use to make a custom menu to run the Live CD over the network (PXE). For more information, read our tutorial "Windows Server - PXE - Custom Menu (Based on syslinux)".
From this menu, you can use a number of programs for testing of materials (see our tutorial : Test your hardware), information about your system, boot from another medium via a boot manager, manage your partitions, ...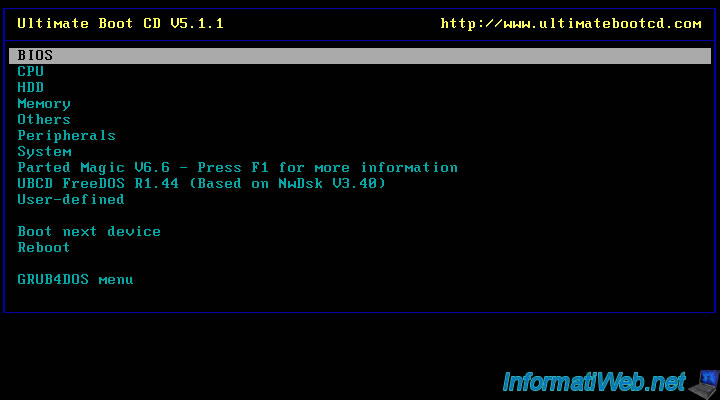 1. BIOS
In the "BIOS", you will find software for you :
- Decrypt the password of BIOS
- To delete (if there is one)
- To restore the BIOS default
- Obtaining information thereon.
Note : The BIOS can be reset :
- By disconnecting the connection of your computer and removing the battery has round flat on the motherboard for 30 Seconds. Then replace the battery and restart your computer.
- On entering the BIOS and using the "Setup Defaults" function, "Default", "Load Defaults" or something that comes close.
Warning : reset the BIOS can cause your computer to operate correctly in some cases.
Examples:
- When changing the SATA controller, your Windows computer can display a blue screen STOP at startup.
- For older systems, the game port can not function.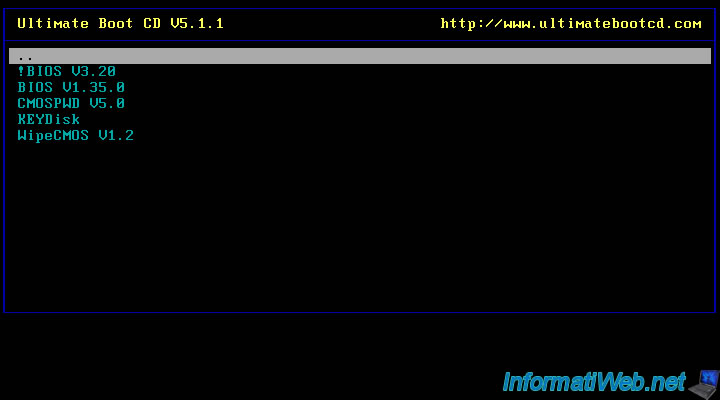 2. CPU
In the "CPU" (processor), you will find software for :
- To test the overclock your processor. Highly recommended if you do not know what you do
- Obtaining information thereon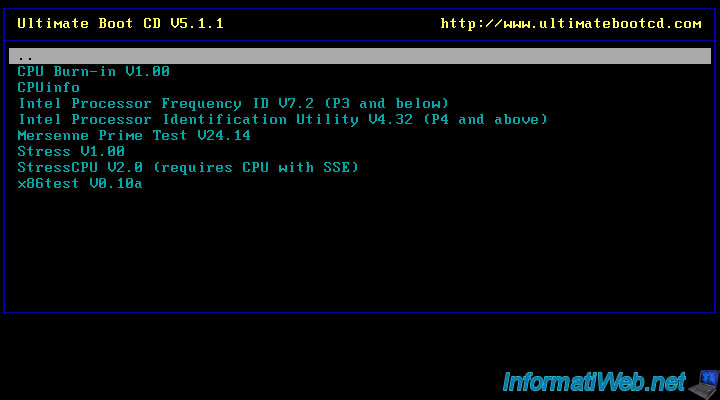 3. HDD
In the "HDD" (hard drive), you will find several categories of software :
3.a. Boot Management
These allow you to :
- Add options to the Windows Start menu
- Start your computer to a Linux distribution like Debian, Ubuntu, Fedora, ...
- Modify the boot.ini file (present in Windows XP).
- Install a bootloader (GRUB or GAG)
- Boot from another medium (a partition on a hard disk, floppy disk, CD / DVD or USB drive). This allows for example to start a computer on a USB stick, even if the BIOS does not support booting from USB.
- Manipulate, save and restore the MBR of your hard disk. The MBR is the first hard drive (not partitions) and used to start the operating system (Windows, Linux, ...) installed on the hard disk
- Modify the way the raw data from hard drive
3.b. Data Recovery
These allow you to :
- Remove the password of a Windows session. (You obviously have the permission of the person)
- Recover deleted data on your hard disk. Know that there are other more powerful software to recover deleted data as "FileScavenger" which is a charge on which we make a tutorial : " Data Recovery with File Scavenger".
- To repair the partition table, recover deleted partition, rebuild the boot sector ...
3.c. Device Info and Management
These allow you to:
- To obtain information on the capabilities of your hard drives, your CD player, ...
- Change parameters of your hard disks, ... Experts only
- Obtain SMART information (relating to the health of a hard drive) to a hard drive, ...
3.d. Diagnosis
Ceux-ci vous permettront :
- de tester votre disque dur. Divers logiciels existent dont certains sont spécifiques à certaines marques (Fujitsu, Western Digital abrégé W.D., IBM, Hitachi, Samsung, Maxtor, Seagate, ...).
Nous avons d'ailleurs créé un tutoriel nommé "Tester son matériel" où nous vous expliquons comment utiliser le programme "ViVARD".
3.e. Disk Cloning
These allow you to :
- Copy or fully erase hard drives (or partitions) and the following software to transfer these copies via FTP. Other payment software used in business are also available in Live CD as "Acronis Backup & Recovery" and "Acronis True Image" we talk about in our tutorial "Acronis - How to restore a backup to a different hardware"
3.f. Disk Editing
These allow you to :
- Change in its raw form (hexadecimal) data from a hard drive. Improper handling can corrupt your data.
3.g. Disk Wiping
These allow you to :
- To completely erase a hard drive is not quickly or erasing hard disk or overwriting the data with 0.
Note: Please note that all times so that the data is not recoverable deleted, it is best to crush them with random data and re perform the operation at least 12 times. Otherwise, it is always possible to recover thanks to the effect of hysteresis.
For the anecdote, know that the military melt their hard drives to prevent anyone could recover their secret data.
3.h. Installation
These allow you to :
- Manage your hard disk partitions. Warning : This is OEM-specific software to brand your hard drive. At the moment the software is valid for the following brands : Western Digital (WD), Seagate, Maxtor, IBM and Samsung.
3.i. Partition Management
These allow you to :
- To manage the partitions on your hard drives, changing flags (flags) and thus change the active partition which defines the partition on which the computer is started.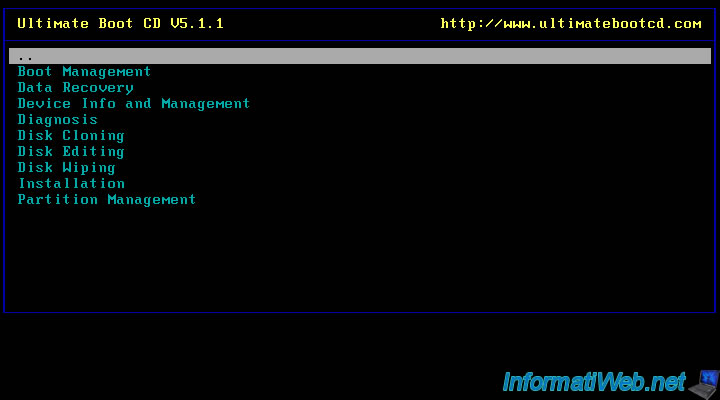 4. Memory
In the "Memory" (RAM), you will find software for :
- Physically test your RAM modules (RAM). For more information, refer to section 2 of our tutorial "Test your hardware"
- To test the memory on your graphics card (NVIDIA only).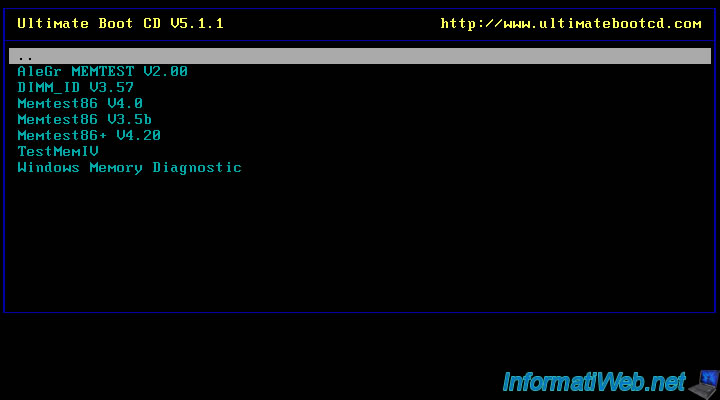 5. Others
In the "Others" section you will find software for :
- Transfer data between two computers via a standard serial cable.
- Override the application password in Linux and Windows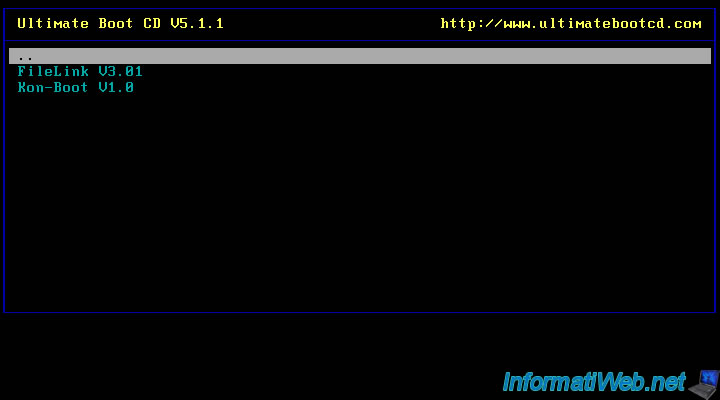 6. Peripherals
In the "Peripherals" (devices) you will find software for :
- To obtain information on your CD player
- Test the defective pixels of a screen
- Test your video RAM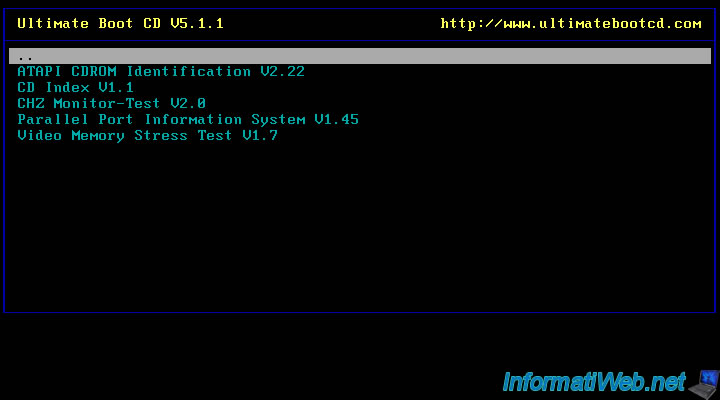 7. System
In the "System", you will find software for :
- To obtain information about your computer : hardware you have, ...
- To benchmark your computer
- Etc.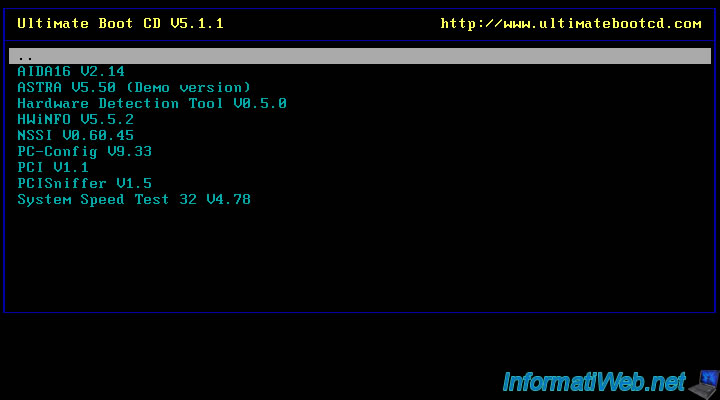 8. Parted Magic
Parted Magic allows you to manage your partitions, files / folders, and view the health of your hard drives.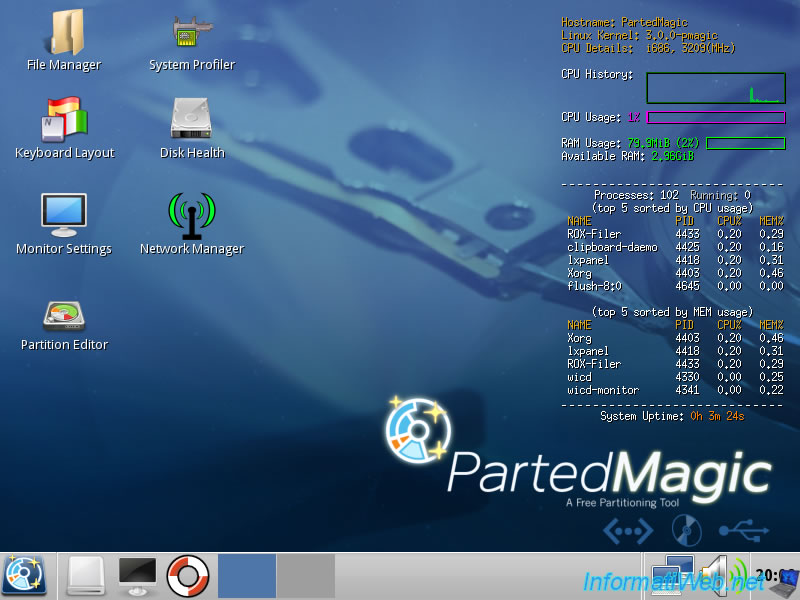 9. UBCD FreeDOS
This is simply another system boot Syslinux or GRUB4DOS as.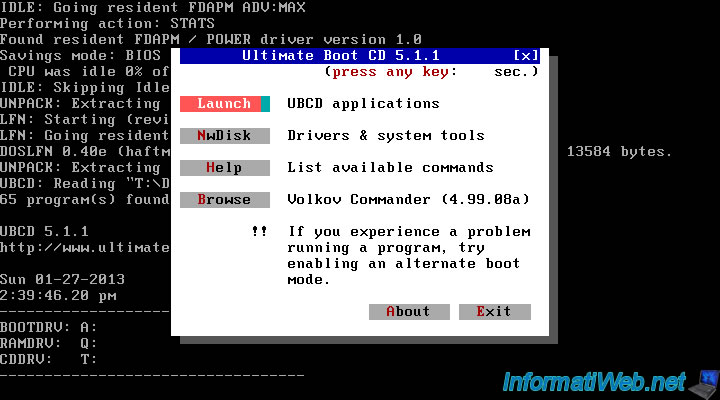 10. User-defined
Adds CD / DVD images, floppy images, ... bootable CD to Live. To do this, read our tutorial : "UBCD - Customize Ultimate Boot CD"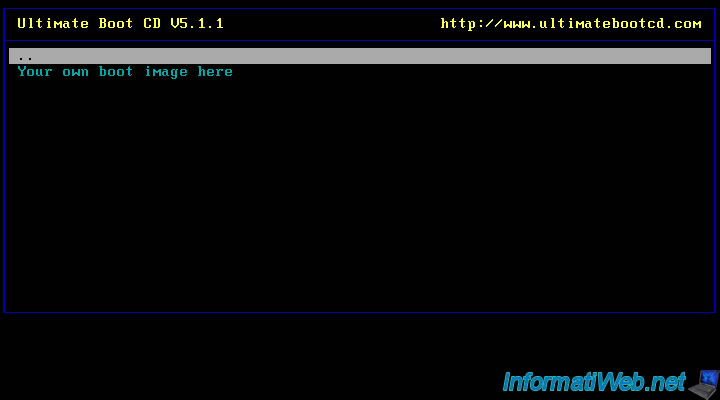 11. Boot next device
Lets just start the next option in the boot order set in the BIOS. To change the boot order, read our tutorial "Change the BIOS boot priroty".
12. Reboot
Allows simply restart the computer.
13. GRUB4DOS menu
This is again another system startup as Syslinux.